Jenny lives in the United Arab Emirates, with her husband Josh and their children. Josh is the church planter and pastor of the Ras al Khaimah Evangelical Church, and Jenny teaches women's Bible studies. Together they are raising five active children, all of whom have spent a majority of their lives in the Middle East. The oldest is 10; the youngest is busy growing vital organs and will hopefully make his appearance later this summer.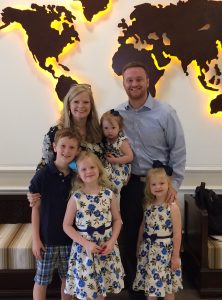 Before church planting and full-time ministry, Jenny and Josh both worked in Washington, DC, in the U.S. Senate. They met in the summer of 2001 on what was the first day of both of their new jobs on Capitol Hill, and Josh proposed exactly three years later under the shadow of the Washington Monument. Jenny eventually became Chief of Staff for a U.S. Senator, where she served as chief advisor to him on legislative and policy matters, as well as oversaw a congressional office and organized a statewide re-election campaign. Working on Capitol Hill was a job she loved but eventually left for the important work of motherhood.
Now when she is not making snacks, helping with homework, or changing diapers, Jenny loves to teach the Bible to women. She cares deeply about training women in how to read and know God's word and to love the theological truths found in it. She especially enjoys studying scripture with women in her church from many different countries, where unity around a shared love of Christ can be seen so clearly in the midst of a diversity of backgrounds.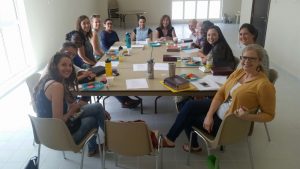 The Good Portion: Christ is her first book, and one that she describes writing as a "life-altering" event. Her research into and meditation on who Christ is and what he has done for sinners has deepened her love for Jesus and her desire to make him known in his world.
Read about Josh and Jenny's efforts to make Christ known in one part of the world here: Church Planting in the Desert.

Read a few of Jenny's articles here:
How to Discern a Call to Overseas Ministry
Unity Among Diversity in the Church
Why We Need the Church
Your (Ultimate) Wedding Day
True Spiritual Encouragement